The Ohio Association of Parliamentarians CONGRATULATES the following members on passing the National Association of Parliamentarian's Membership Examination:

Dorothy Gordon-Miami Valley Unit, Springfield, Ohio

Sandra Evans, Northcoast Unit, Cleveland, Ohio
Jocelyn Travis-Northcoast Unit, Cleveland, Ohio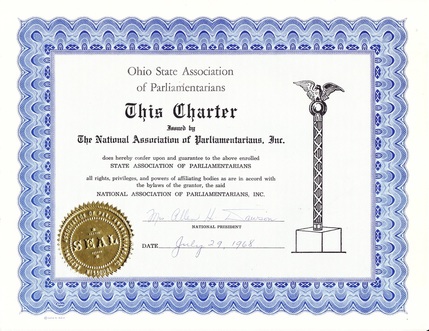 The object of the Ohio Association of Parliamentarians (OAP) is to promote the study of parliamentary procedure and the educational programs of the National Association of Parliamentarians (NAP).
Our goal is to encourage the understanding and use of the Robert's Rules of Order to enable groups of all types and sizes to meet effectively, making decisions in a fair and consistent process that makes good use of everyone's time.

Interested in Becoming a Member?
To become a member of OAP you must also belong to the
National Association of Parliamentarians
. However, anyone interested in parliamentary procedure is welcome to join a local unit as a provisional member. For more information feel free to contact one of our local units directly. We look forward to hearing from you!
NEED A PARLIAMENTARIAN?
We will try to connect you with a Parliamentarian near you.
Please note our Parliamentarians independently establish their fee schedules.

Contact us at:
info@ohioparliamentarians.org